Back Pressure Regulator (BPR)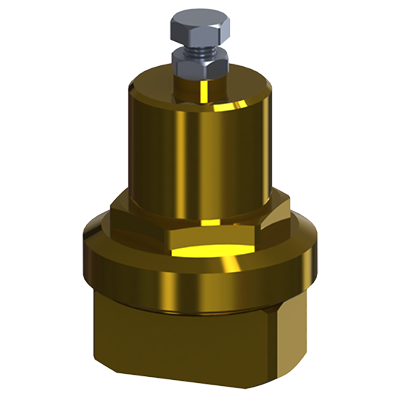 Generant's BPR Series Back Pressure Regulator
1/4" NPT
15 - 600 Psig
Description
BPR Series back pressure regulators are designed for use as both economizers or diaphragm type pressure limiting devices on cryogenic liquid cylinders and systems. Optimized diaphragm and adjustment spring designs provide high flow above the desired setpoint. Robust metal-metal seal and seat design ensures low leakage rates below setpoint. The BPR Series is constructed of primarily brass and stainless steel for long-lasting performance. All BPR Series regulators are supplied factory pre-set and cleaned for oxygen service.
Features
Optimized for High Flow: Optimized Diaphragm and Spring Design allows for high flow rates at pressures beyond setpoint.
Quick Shut-Off: Regulators transition from the flowing condition to shut in a tight pressure band.
Inlet Filter Screen: Protects against system debris and particulate
Designed for Cryogenics: All materials were selected specifically for use in cryogenic environments.
Field Adjustable: Regulators can be adjusted to any desired setpoint within the spring's pressure range.
Cleaned for Oxygen Service: Regulators are cleaned for use in Oxygen service standard.
Monel Option for Poppet and Seat: Recommended for use in Oxygen Service.
Technical Data
Maximum Inlet Pressure: 600 Psig (41.4 Bar)
Temperature Rating: -320˚F to 200˚F (-196˚C to 93˚C)
Pressure Ranges:

A Spring – 15 to 65 Psig (1.0 to 4.5 bar)
B Spring – 50 to 175 Psig (3.4 to 12.1 bar)
C Spring – 100 to 350 Psig (10.3 to 24.1 bar)
D Spring – 300 to 600 Psig (20.7 to 41.4 bar)
A, B and C Range Springs are interchangeable. D Range Spring requires Chamber Ring

Click here to download product literature