Cryogenic Pressure Regulator (BLD)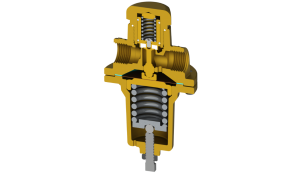 Generant's BLD Series Cryogenic Pressure Build Regulator
1/2" NPT
Max. Inlet 600 PSI (41.4 bar)
Description
BLD Series Cryogenic Pressure Regulators provide high flow and shut off quickly at the desired set pressure. The regulator design is a non-balanced, spring reference, reducing type regulator and comes with PTFE seals for cryogenic use. These regulators are optimized for use in pressure build applications. The solid (non-tied) metal diaphragms provide long lasting, leak-free performance. The springs for BLD Series Regulators have been designed for optimized flow within the set pressure range. All BLD Series Regulators are supplied cleaned for Oxygen service.
Features
Optimized for High Flow: Design provides high flow rates at low pressure differential.
Quick Shut-Off: Regulators transition from the flowing condition to shut in a tight pressure band.
Solid, Non-Tied, Diaphragm: Solid diaphragm eliminates the potential leak path and increases sensitivity.
Designed for Cryogenics: All materials were selected specifically for use in cryogenic environments.
Cleaned for Oxygen Service: Regulators are cleaned for use in Oxygen Service standard.
Extensively Field Qualified.
Technical Data
Maximum Inlet Pressure: 600 Psig (41.4 Bar)
Temperature Range: -320˚F to 200˚F (-196˚C to 93˚C)
Full Open Flow Coefficient: 2.20
Outlet Pressure Ranges:

A Spring – 15 to 75 PSI (1.0 to 5.2 bar)
B Spring – 50 to 200 PSI (3.4 to 13.8 bar)
C Spring – 100 to 350 PSI (6.9 to 24.1 bar)
D Spring – 300 to 600 PSI (20.7 to 41.4 bar)

Click here to download product literature